Thomas and Margaret March White
Swaledale, Yorkshire, England-->White Oak Springs, Lafayette County, Wisconsin 1845
Thomas White was the son of John and Ruth White. An old paper salvaged from the attic of the farmhouse at Signal Hill Farm1 in White Oak Springs, Wisconsin reads:
"Thomas White, the Son of John & Ruth White was Born June y 1st, 1813 Between Eleven & Twelve Oclock at night And was Baptised 22nd of the said Jn Anno Domino 1813"
Thomas apparently had only one brother:
"John White the son of John & Ruth White was Born 20th of October 1815 Between Three & Four o'clock at morning and was Christened Nov 18th Anno Domino 1815."
This paper appears to have been a blank page from a Bible or prayer book--perhaps the brothers' attempt to document their births when setting off to America. It is, however, unsigned. Microfilm records at the LDS Genealogical library in Salt Lake City confirm these christening dates and add that they occurred in the parish of Kirkby Ravensworth in the North Riding of Yorkshire, England.2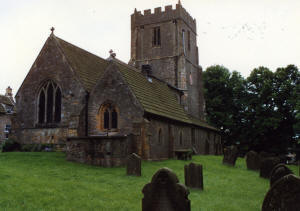 Kirkby Ravensworth
Thomas White married Margaret March who was born November 2, 1812 in Marrick, Yorkshire, England, the daughter of George and Sarah March.3 They were married in 1832 in Kirkby Ravensworth4,5—they made their home in nearby Swaledale on a farm known as Mosedale Riggs.6 Six children of this marriage were born in England. Records at the LDS Library show they were all christened at the parish church in Marrick. They were John (christened June 2, 1833), Sarah (christened December 7, 1834), George (christened November 20, 1836), Thomas (christened February 22, 1840), William christened May 23, 1841), and Ruth (christened September 24, 1843.)7 Comparing known birth dates with known christening dates indicates that christenings in this area took place at approximately three weeks of age. All of these children came to America with their parents and a seventh child was born enroute—Edward Ocean White was born on the Atlantic Ocean on May 14, 1845.8 From Edward Ocean's birth date, we can place the White's arrival in the US sometime in late May or early June of 1845. Six (one apparently still-born) more children were born in the United States.

Thomas & Margaret White
Memorial Marker
Eastern White Oak Cemetery
click on thumbnail to enlarge

Thomas White
Death Certificate
click on thumbnail to enlarge

Thomas White
Naturalization Record
click on thumbnail to enlarge

Thomas White Will
Because of the large file size of the scans of the will, I have broken the will into sections. Click on the thumbnail for each section in order to read the will.
If you have the luxury of a fast Internet connection, click here to read the whole will in one piece.