Who Was Harvey Kelley?
How Our Family Used DNA Testing To Find Out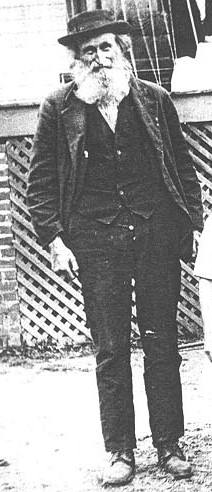 The Mystery and Some Early Clues
I have posted long and often and everywhere I could think of about our widespread but whispered family tradition that my great-great-grandfather Harvey A. Kelley of Cumberland County, TN began life near Walhalla, SC with the surname DORSEY, not Kelley. Working only from the public record, we must assume that Harvey was dropped from a spaceship into Cumberland County, TN shortly before the 1870 US census.
Cumberland County, TN August 11, 1870 page

Name

Sex

Race

Age

Occupation

Birthplace

Harvey Kalley

M

W

34

farmer

SC

Louisa

F

W

24

SC

John A.

M

W

12

SC

Mary D.

F

W

7

SC

Walter

M

W

5

GA
Over the years (since I was about ten years old) I have been told multiple stories about the reason for the name change (including that it never happened) but never anything about our purported DORSEY ancestors. About twenty-five years ago, as I rolled to the end of the microfilm of the 1860 Pickens County, SC census, (just outside of Walhalla), I found a young family named DORSEY—a father E. H. DORSEY, age 27, his wife Louisa, age 22, and a son John A. age four. I was ecstatic. There is amble proof that Harvey Kelley's wife was Louisa Bauknight, daughter of John Bauknight, Jr. and Margaret Ellisor of Lexington, County, SC. She appears, at age 12, with her mother and stepfather John Koon and known siblings in the 1850 Lexington County, SC census. We also have her death certificate which gives her birth date as May 30, 1838 in SC. (Admittedly there are age discrepancies among these and other records. This family, though literate, consistently reported difference ages and birthplaces throughout the public record. I do not know whether this was an all too common artifact of the census taking process or whether the family purposely gave incorrect information.)
For many more years, I made little more headway. Older family members would tell me one thing and another cousin another. I had exhausted the resources of my local Family History Center and various genealogy libraries and made fruitless trips to Walhalla and to Cumberland County (cemeteries, library, etc.) Then, with the advent of Internet Genealogy, I was able to access increasingly more records from home and, even better, met up with a few long lost cousins who were puzzling over the same problem.
Browsing through the Old Pendleton District (SC) Database (http://oldpendleton.homestead.com/families.html), I found a partial outline of the DORSEY family to which I suspected Harvey had belonged (although there was no E. H. DORSEY listed.) I exchanged emails with David Thompson who had posted the information and he suggested to me that E. H. DORSEY was Elisha DORSEY (not listed in his online report at that time) the son of William H. DORSEY who was the son of John H. DORSEY (b. c 1772 in NC, d. 1852, Pickens County.)
With this information, I was able to scrounge up a few more documents—one important one, a land record indicating that Elisha H. DORSEY was the son of William and Martha DORSEY and brother of Anderson DORSEY. Somewhere along the way, we discovered that Anderson and Elisha and Andrew J. DORSEY had all signed up for the Confederate Army on the same day. My cousin Steve Kelley made a project of finding out as much as he could about their Civil War service—which was less than illustrious, I am afraid. Nevertheless, Steve was able to trace the movements of their unit and found they served mostly in the hills of eastern Tennessee. Then following one of those hunches that genealogists get, he dug through the censuses of eastern Tennessee until he found Anderson DORSEY and his family living in Cocke County, TN in 1870.
We spent the next couple of years on a two front approach. I was inclined to focus on the DORSEY family while Steve took on the tedious task of tracking down any indications that Harvey was, in fact, just who he claimed to be, Harvey Kelley. We communicated almost daily about our finds and theories. We were joined by another cousin Robert Kelley who made trips to South Carolina and Tennessee and personally called as many Kelley family members as he could find in an effort to gather more details about Harvey and Louisa's lives. In the process, I made some great friends—Steve and Robert, of course, but also descendents of other sons and daughters of John H. DORSEY. I branched out and met descendants of Elisha DORSEY of Burke County, NC who, I suspect, was brother or cousin to John and some descendants of Bassell DORSEY of NC and GA who also seemed to move in the same circles. I met a descendant of the mysterious Andrew J. DORSEY who signed up with Anderson and Elisha—was he their brother? And finally, one night I found a post on the DORSEY GenForum by Karyn DORSEY Shronski—a proven descendant of Anderson DORSEY. We corresponded almost daily. In October of 2001, I met Karyn and her father Jim DORSEY at a restaurant in Tampa, FL.
Jim DORSEY agreed (graciously and enthusiastically, I might add) to participate in a DNA test with two of our Kelley men—Robert Kelley (above) and my first cousin Stan Kelley. In November, we sent the samples to Family Tree DNA in Houston, TX and began our wait. Our tests were conducted in the lab of Dr. Michael Hammer at the University of Arizona.
How DNA Testing for Genealogy Works
A DNA molecule is actually a chain composed of about 3.2 billion subunits. There are four different kinds of subunit in DNA. Just as the order of the letters in a word determine its sound and meaning, the order in which the four DNA subunits are arranged conveys all of the information that ultimately determines an organism's traits. As a part of the reproductive process, this information is copied and passed on from parent to offspring. For the most part the copying process is amazingly precise. However, occasionally (about once every billion subunits) a mistake happens—a typo in which one (or more) subunits is added, omitted or replaced by another. When such a mistake, called a mutation, occurs in a sex cell, it will be passed on to all subsequent generations.
Mysteriously interspersed among the information conveying sequences (called genes) of DNA are multiple repeats of short sets of the DNA subunits. These areas of the molecule code for nothing and give no useful information about the individual. One type of DNA testing for genealogy involves comparing such areas on the Y (male) chromosome where the subunits repeat themselves in known patterns (called STR's, for "short tandem repeats".) The number of repeats changes (mutate) only rarely but when they do, the change is passed on to all subsequent male descendents. Over thousands of years, these changes accumulate creating variations in patterns of STR markers, that are unique to each male line. As the Y chromosome is handed down from father to son, it becomes a kind of biochemical signature for the surname. (Of course, if the surname is changed, that doesn't mean the Y chromosome signature changes—it still signs itself with the "old" surname. Harvey, you can run but you can't hide!)
The Results
A few days before Christmas 2001 we got our results. In the first phase of our test, we compared 12 different areas of repeats (called markers). This yielded a set of 12 numbers for each testee. Both of the Kelleys and Jim DORSEY matched exactly—each had the same number of repeats at each marker. This was strong support for the hypothesis that Harvey Kelley began life as a member of the DORSEY family of Pickens (now Oconee) County, SC. Furthermore, we were able to compare those numbers to a large (at that time 12,000 individuals), anonymous database of European test subjects. We found that the DORSEY/Kelley Y chromosome signature had only ONE match in this database (in London.) A more detailed analysis revealed that though most of their markers are typical of western European/Anglo/Irish populations, a combination of two of the markers was very rare and a third marker was quite unusual as well. This uniqueness of the DORSEY/Kelley Y signature was even stronger support for a common origin.
However, to be absolutely certain that we didn't have just a random match (which I have been told by several geneticists would be close to impossible with our unusual set of markers), we upgraded one of our Kelley participants and Jim DORSEY to a 25 marker test. BINGO, both matched on all 25 markers making it virtually certain that Harvey was a DORSEY. Click here to see a chart of the results for this project.
The table below shows the results of our DORSEY/Kelley project. The numbers across the top of the chart represent the names of the markers (areas on the Y chromosome) that were tested. (The number part of the names just reflect the coding system of the lab where they were discovered. DYS stands for DNA Y Chromosome Segment.)
Surname

Dorsey/Kelley Marker Comparison

DYS Marker Values

3
9
3

3
9
0

1
9

3
9
1

3
8
5
a

3
8
5
b

4
2
6

3
8
8

4
3
9

3
8
9
|
1

3
9
2

3
8
9
|
2

4
5
8

4
5
9
a

4
5
9
b

4
5
5

4
5
4

4
4
7

4
3
7

4
4
8

4
4
9

4
6
4
a

4
6
4
b

4
6
4
c

4
6
4
d

Dorsey

13

25

14

11

11

14

12

12

12

13

13

31

17

9

9

11

11

23

15

19

29

15

15

17

17

Kelley

13

25

14

11

11

14

12

12

12

13

13

31

17

9

9

11

11

23

15

19

29

15

15

17

17

Kelley

13

25

14

11

11

14

12

12

12

13

13

31

Custer
13
23
14
11
11
11
12
12
12
13
13
29
17
9
9
11
11
25
15
20
29
16
16
16
16

freq.1

.95

.15

.93

.63

.90

.52

.98

.98

.74

.86

,63

.01

.50

.97

.12

.98

.99

.02

.85

.81

.39

.82

.69

.52

.62

Table HK-1
Source: Family Tree DNA. Data December 2001
1Frequency of marker value occurrence in Haplogroup R1b calculations for the ancestral haplotype provided by Whit Athey 10 (http://www.worldfamilies.net/Super%20Western%20Atlantic%20Modal%20Haplotype.htm)
At the left are the names of the people tested. The first test is from Mr. James DORSEY our proven DORSEY descendant. The second two names are proven descendants of Harvey Kelley (whom we suspected was actually Elisha DORSEY.) The numbers in each box show the number of pattern repeats for each marker for each man. Finally, the fourth name is my husband who is not related at all to any of the DORSEY/Kelley crowd. His father's family is from the Orkney Islands of Scotland. I included his test results to illustrate the differences commonly found among different surnames. Boxes filled with blue point out the nine markers that are different from the DORSEY/Kelley markers. Other markers in common most likely represent a common origin far back in ancient history (thousands of years) as both lines trace back to the British Isles.
Of particular interest in the DORSEY/Kelley results above are the marker values in the green shaded boxes. In a database of over 12,000 men of European descent, (found at www.ystr.org) only about 26% share the DYS 390 marker value of 25. However, the really unusual part of the DORSEY/Kelley Y chromosome is the combination of the DYS 389i and DYS 389ii markers. In the same database, only about 6% shared that combination. The ystr database allows the public to search nine of the markers from our Family Tree DNA results. Entering those nine of the DORSEY/Kelley marker values results in only one match out of 12,802 men of European descent. The uniqueness of this signature (also called a haplotype) gives great confidence that the DORSEY/Kelley match is not the result of a random coincidence which gives extra support to our hypothesis that Harvey Kelley and Anderson DORSEY shared a close common ancestor.
I'd like to point out here that the nature of this test is such that it cannot say that Harvey and Anderson were brothers—only that they shared a close common, direct line male ancestor. Our paper trail, family tradition and other circumstantial evidence tells us it was most likely they were brothers—the sons of William and Martha DORSEY.
The hypothesis that Harvey Kelley and Elisha DORSEY were the same person is supported by:
1) A vague but pervasive family oral tradition of a name change from DORSEY to Kelley and a move from near Walhalla, South Carolina to Tennessee.
2) A South Carolina land record naming Elisha and Anderson DORSEY as the sons of William and Martha DORSEY.
2) An 1860 Walhalla, SC census record for E. H. DORSEY with wife Louisa and son John A. Harvey Kelley's wife was Louisa Bauknight, their first son was John Alexander. Ages are consistent.
3) A failure to find any records for Elisha, Louisa, or John A. DORSEY after the 1860 census in spite of intense searches by three people over a period of 20 years. A concurrent failure to find any records forHarvey Kelley prior to the 1870 census.
4) A strong resemblance between a picture of Harvey (left) and pictures of known DORSEY family members and especially an old unidentified picture (right) found in a family Bible of the DORSEY family.
5) An 1823 marriage record in Burke County, North Carolina for William H. DORSEY and Patsey KELLY. (Patsey is a nickname for Martha.) William's parents are known to have lived in this area before moving to South Carolina in the 1840's.
6) A DNA test that resulted in a 25/25 marker match for a Y STR comparison (done at Family Tree DNA) between a proven descendant of Anderson DORSEY and a proven descendant of Harvey Kelley. The significance of this match is strengthened by the extremely unusual DORSEY/Kelley values for DYS 389i/389ii (13,31) and a somewhat unusual value for 25 for DYS 390.
---